Fab Logo Design
Logo design - as unique as you are
A logo design has to be professional, eyecatching and original. All our logos are bespoke designs tailored for your business, company or service. We offer a fixed price for a logo you will be 100% happy with, no compromises for what is the most important factor - your brand identity. Your logo is exactly that - yours. We'll produce a logo that is suitable for any purpose, no problem.

Logo - what then?
We specialise in developing your existing company presentational profile and from scratch, we can initiate your new business appearance to ensure the best possible start.

Despite the finished looking cup, this image was worked on pretty extensively - the cup was 'centred' in the saucer, the original cup handle was moved to fit in the space in between the type, the face was taken from another photo using a blue cup, the left eye was improved, then finally the edge of the saucer was defined better as the final print was to be a white cup on a white van.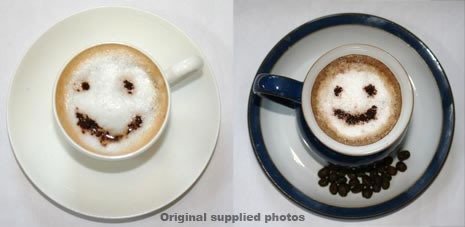 ---